2022 Bo and Trash / Бо и монстр Трэш trailer: https://youtu.be/reqM56FpfLU
Our planet is choking in garbage. That garbage is transforming into a live embodied force that is invading and upsetting the delicate balance of life on Earth. Bo the dog, a brave chemist, invents a magical solution which can overcome this dreadful monster. Risking his life, Bo sets out to save animals and birds, who in turn come to his rescue./ Мусора на планете становится всё больше, он обретает плоть и душу, он наступает на хрупкий живой мир! Пёс Бо, отважный химик, изобретает волшебное средство, способное победить грозного Мусоро-Монстра. Рискуя жизнью, Бо спасает зверей и птиц, и они отвечают ему тем же.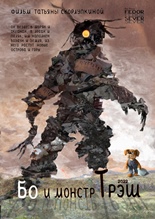 Film success - Festivals:
*ORBE TERRACQUEO, WINNER, Bergamo, Italy
*6 Eco-civilization. Nizhny Novgorod. Russia. Award –WINNER
*Festival of environmental films «EFiR74» Award –WINNER, Chelyabinsk, Russia
*20th Tirana International Film Festival 2022, KIDs program PANORAMA, Tirana Albania
*29th SUNCINE - Barcelona International Environmental Film Festival, Spain
*67th SEMINCI - Valladolid International Film Festival, Spain
*Sensus Film Festival, Saint-Petersburg, Russia
*12th CMS International Children's Film Festival, Lucknow, India
*BNP Paribas Green Film Festival, Krakow, Poland
*18th Athens ANIMFEST. Greece
*PAFestival, São Paulo, Brazil
*International Animation Film Festival – Animafest Gdansk, Poland *18th Children's Film Festival Seattle, USA
*ICONA 2022 [Animation Festival], Corfu, Greece
*International Film and Video Festival «Catharsis» Moscow, St. Petersburg, Ekaterinburg, Penza, Vladimir, Novosibirsk, Pskov, Vladivostok, Russia
*Short Shot Fest, Moscou, Russia
*5th Athens International Children's Film Festival, Greece & Cyprus<
*Korochekino, Kaliningrad, Russia
*GMIFF - Green Montenegro International Film Fest, Podgorika, Montenegro
*13 Artkinofest, Moscou, Russia
*XXVII Volga –Film Kino-detym International Film Festival, Samara, Russia
* 10th Miami International Science Fiction Film Festival, USA
*30th Kids First! Santa Fe, USA
*LAMPA International Film Festival, Perm, Russia
*Inheritance Film Festival. Belfast, Brighton, Sheffield, Kent. UK<
*25th CinemAmbiente – Environmental Film Festival, Turin, Italy
*10th Changing Perspectives Short Film Festival, Istambul, Turkey
*20th Imaginaria, Conversano, Italy
*49th IFF Ekotopfilm – Envirofilm, Bratislava, Slovakia.
2019 Trailer for 14th Seattle children's film Festival and
international project «Friendly Rhythms of the Planet»
https://www.youtube.com/watch?v=BJhCSCz6Pjo">https://www.youtube.com/watch?v=BJhCSCz6Pjo
2018 "The Dachshund in a Picture Frame"/ТAK$A
Film success - Festivals:
* 69th Montecatini International Short Film Festival, Italy, 2018/10
* 14th annual Children's Film Festival Seattle, USA 2019 /1
* 9th MikroFAF - International festival of DIY and independent short film. Belgrade, Serbia, 2018
*KINOodiseea, 10 international Children film Festival, Bucharest, Romania, 2018 / 11
14th Athens ANIMFEST, Greece, Athensm 2019/3
9TH Cambodia International Film Festival, Phnom Penh , 2019/3
* PIFF. 16th Pyongyang Film Festival, North Korea, 2018/9
* Fam film festival, Rock Hill, SC - SOUTH CAROLINA , USA, 2018/8
* Kino-Likbez, Saint-Petersburg, Russia, 2018/7
*DEA OPEN AIR International Film Festival , Tirana , Albania. 2019/5
*OLBIA FILM NETWORK-Figari Film Fest, Official Video Library. Olbia, Italy 2019/6
*On Art-Poland, Poland, Warsaw, Cracow, Poznan, Wrocław. 2019/9
*20th Woodstock Museum Film Festival, Woodstock , USA, 2019/8
*Minikino Film Week 5, Bali, Indonesia, 2019/10
*Star Film Fest Barcelona, Spain, 01|2021
*Lift-Off Filmmaker Sessions by Lift-Off Global Network. Pinewood. UK
2017 Saint-Petersburg, Sheremetev Palace - Museum of Music, «Multimedia project «Cinema, Palette and Bassoon» mix-media
2016 "Abstract Painting" / Ребусы собаки Бу
Different animals try to describe a painting, but they all see different things!
Film Festivals:
*Seattle Children's Festival "Best of the Fest CFFS 2016" program around the world USA, 2016
* Best Animated Film. International Film Festival "OKNO". Omsk. Russia. 2018|4
Film festivals:
*BEAST International Film Festival 2018/9 in Porto, Portugal
*Busan International Kids and Youth Film Festival. Korea, Busan, 2018/7
*GUKIFF International Kids Film Festival, Seoul, Korea, 2018/5
"Zolotye-aplodismenty" Chelyabinsk, Russia, 2018/3
*Constantine's Gold Coin, Nis, Serbia, 2017
*Maryland International Kids FilmFest.Frederick, USA, 2018
*18th BAMkids Film Festival NYC, USA February 27, 2016
*Animation Day in Cannes, France, 23/5 2017
*REDCAT International Children's Film Festival Los Angeles, USA 2016/ 4
*Bellingham Children's Film Festival Washington, USA, 2016/3
*RINCON International Film Festival Puerto Rico
*33th KidFilm Festival Dallas, Texas United States January 21, 2017
*International Film Festival Cinema of the Future Society "A-FestFilm2017" Tirana Albania May 23, 2017
*The International Animated Film Festival "Constantine's gold coin" Nis Serbia August 10, 2017
*Festival Internacional de Cine y Audiovisual Infantil y Juvenil, FICAIJ Mérida, Venezuela
*Coastline Children's Film Festival Michigan, USA, 2016/4
*Spokane Children's Film Festival Washington, USA, 2016/6
*Monterey Art & Film Festival for the Youth California, USA, 2016/4
*Scottsdale International Film Festival Arizona
*Zoom Family Film Festival Ohio, Wexner Center for the Arts
*Anibar Animation Festival Peja, Kosovo 2016/8
*Pentedattilo Film Festival Reggio Calabria Italy November 10, 2016
*13th KIN International Women's Film Festival, Yerevan Armenia September 7, 2016
*7th Golden Kuker-Sofia, Bulgaria 2016 out of competition
*9th Artkinofest. Moscou, Russia, 2016/7
*Children's Animated Short Films - Nevada City Film Festival, USA, 2016
*Queen City Film Festival, Cumberland, Maryland, USA, 2016/10
*9thCMS International Children's Film Festival Lucknow, India April 13, 2017
*Children's International Film Festival Catawba County, North Carolina United States April 29, 2017
*Feel The Reel International Film Festival, Glasgow, United Kingdom
*19 Ideological film festival Moscou Russian Federation April 8, 2016
*12th Blue Plum Animation Festival Johnson City United States June 16, 2016
*Kinolikbez. Saint-Petersburg Russian Federation June 27, 2016
*18th Athens Digital Arts Festival | FutuRetro, Greece, 2022
*Youth International Film Festival, Hickory, USA, 2017
*Festival Audiovisual Infantil (FICAIJ) Bogotá, Colombia, 2017
*19th Athens Digital Arts Festival (ADAF) Greece 2023
The film features a narrator who appears to be reading a story for children. However, his habit of sipping 'tea' during his performance, coupled with his absurd asides, allow for different perceptions.